Back2Back Champions 2015
Photo Courtesy of Devan Mighton
Sutherland Cup Champions 2014
Corvairs retire Norrie's No. 22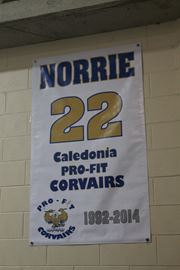 It wasn't about how many goals he scored or how fast he skated, it was who Tyler Norrie was off the ice that had the greatest impact on his fellow players.
"Right from when he was little, five- or six-years-old, he started playing," Norrie's mom, Karen Hishon said. "Hockey was his life. It was our life, too."
On Saturday, the Caledonia Corvairs held a special ceremony to commemorate Norrie's life, and to officially retire his number, 22.
"This means a lot, to know he was though so much of," Hishon said.
Norrie passed away suddenly on June 3 of this year when he was working out at the Travelodge gym in Simcoe, finishing his first season with the University of Waterloo Warriors.
He was 22.
After playing minor hockey in Simcoe, Norrie moved on to AAA hockey in Brantford before returning home to play for the Niagara District Junior C Hockey League's Simcoe Storm for a year.
He then went on to become a core player with the Brantford Golden Eagles and Caledonia Corvairs.
Duncan Norrie, Tyler's dad, called the Corvairs, "a class A organization," for opting to retire Tyler's number.
"It means a lot, to know that there won't be another person playing as his number," Karen said.
"Everything that people are doing helps to keep him alive," said Lynsey Norrie, Tyler's younger sister.
Several of Norrie's teammates from each of his teams came out to pay their respects at the Saturday night ceremony.
"Tyler was always a happy guy. Always smiling, no matter what," said former Golden Eagles goalie Bryce O'Hagan. "He was the type of guy you could ask him the time of day, and he'd give you his watch. He was always caring."
Mike Rebry also played in Brantford with Tyler, and were close off the ice as well.
"He was like a brother to me," Rebry said. "I wouldn't trade my memories with him for the world. I'm honoured to call him my best friend."
"He had an unspoken character," said Nate Mitton, who played in Brantford and Caledonia. "You just wanted to be near him."
Mitton added that Norrie had a, "huge sense of humour," and played several pranks on him.
He was happy to see the Corvairs honouring Norrie's memory.
"I think this is awesome," Mitton said. "He definitely deserves it. Tyler was the essence of what we want players to be. He was respectable and kind, on and off the ice."
At the ceremony, Corvairs general manager and director of hockey operations Brian Rizzetto announced that the team's owners, Jerry Montour and Kenny Hill, had put $10,000 into the Tyler Norrie Foundation. It's a fund that has been established for past, present and future Corvairs.
The fund is to support players in their lives off the ice. Rizzetto said it would be for things like starting a business, paying for school, or a benevolence fund if someone was in crisis.
Players wanting to access the funds will need to apply.
There was also a banner unveiled at the Haldimand County Caledonia Centre that has Norrie's last name and number on it. It will hang outside of the Corvairs' dressing room, so that the players will see it whenever they are at the arena.
Framed jerseys were presented to his mom, dad and sister, Lynsey, was also given a Sutherland Cup championship ring with her brother's name and number on it as a keepsake.